Photo from 10-Year MD PnP Program Anniversary, May 2014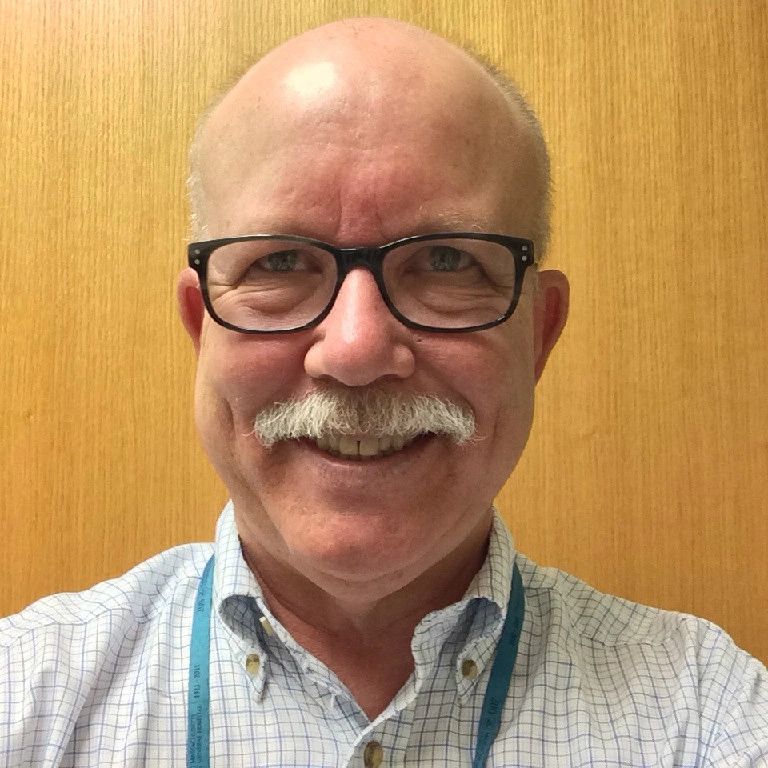 Drayton Freeman

Research & Grants Assistant for the Medical Device Plug-n-Play Program
Prior to joining the MD PnP Team Drayton spent 10 years at Massachusetts General Hospital supporting the Director of the Clinical and Biochemical Pharmacology Laboratory as well as the Anaesthetist-in-Chief for Shriners Hospitals for Children® – Boston.

Rick Schrenker

Senior Biomedical Engineer, MD PnP Program
Systems Engineering Manager, Massachusetts General Hospital
Rick Schrenker provides systems engineering services to the MGH Department of Biomedical Engineering and the MD PnP Program. His interests are on the application of formal systems engineering in health care, focusing in on requirements, validation, assurance, and risk management. He has held clinical engineering and clinical engineering management positions at Johns Hopkins Hospital as well as MGH since entering the field in 1979. Rick holds a BS and MS in electrical engineering from Johns Hopkins University.

Rick is active in AAMI and its information technology and medical software standards related efforts. He is a member of the IEEE and its Medical Technology and Policy Committee, as well as the International Council on Systems Engineering (INCOSE) Biomedical Engineering Working Group.

Dylan Bagshaw [photo coming soon]
Associate Clinical Engineer
Mass General Hospital, Medical Device Plug-n-Play Program
Dave Guffrey [photo coming soon]
Dave has an M.S. in Business Management and in Biomedical Engineering
He specializes in clinical systems engineering and medical device/IT Security
He works with the Partners HealthCare Clinical Device and Biomedical Device IntegrationTeam and with the MD PnP program

Ken Auerbach

Database Engineer, MD PnP Program
Ken Auerbach's academic background is in Theoretical Physics and Mathematics. He has worked as a Computer Scientist at MIT as well as on military projects at MIT Lincoln Lab and Draper Laboratory. He has also held several positions in the Health Care field. He has worked on several health-related research projects, including a semi-Markov computer model to aid in the optimization of resource allocations for Tuberculosis and AIDS prevention and treatment - work that resulted in a paper he co-authored in JAMA. His last position was Project Manager and Database and System Administrator at the Lab for Drug Discovery in Neurodegeneration (LDDN) at the Brigham & Women's Hospital.

Sue Whitehead
Senior Program Advisor
Sue was our founding Program Manager and served in this critical role from 2004-2014.
Previous MD PnP Team Members:


Diego Alonso
Applications Developer, MD PnP Program
Diego Alonso was an Applications Developer for the MD PnP program. His previous experience includes working as an Analyst/Programmer for the financial and media industries. He has a master`s degree in Computer Science from the Complutense University of Madrid. Diego began working with the MD PnP program in 2013.


Harshal Sawant
Biomedical Engineer, MD PnP Program
Harshal was a Biomedical Engineer at the MD PnP program. Previously she has worked in a start-up based on commercializing sustainable materials. Her work experiences involve Research & Development, Product Design, Project Management and Business Development. She holds a B.Tech in Chemical Engineering from NITK Surathkal, India and an M.Eng in Biomedical Engineering from Cornell University. Harshal began working with the MD PnP program in May 2014.

Jeffrey Peterson

Clinical Engineer, MD PnP Program

Jeffrey Peterson worked as a Clinical Engineer for the MD PnP program. Previously, he worked as a Clinical Engineer at UMass Memorial Medical Center in Worcester, MA. His projects were focused on healthcare technology management, clinical alarm management and distribution and medical device integration. He holds an MS Biomedical and Clinical Engineering and a BS in Biomedical Engineering, both from the University of Connecticut. Jeff completed his Master's thesis on clinical alarm management during his time at UMass.

Katharine Koury was a Clinical Research Coordinator for the MD PnP Program. Katharine holds a Bachelor of Arts Degree in Psychology from the University of Colorado, Boulder.
Andrea Lenco was our Research & Grants Assistant.
She is a graduate from the Boston University School of Public Health MPH Program where she studied Maternal and Child Health. Previously, she worked as a Course Manager at Harvard Medical School.
Emma Sconyers
Research & Grants Assistant, MD PnP Program
Emma Sconyers followed Andrea as the Research and Grants Assistant for the MD PnP Program.

Jeff Plourde was a Lead Software Developer, MD PnP Program
Previously he worked in the hedge fund industry. He holds a BS in Computer Science and a BS in Biology from Rensselaer Polytechnic Institute. 2012-2014
Mike Feinberg
Software developer, MD PnP Program
Mike is a software a
rchitect with strong experience in production of diverse distributed applications, real time embedded system, GUI applications, expert system administration, OOP, large-scale system design and development, porting and integration.He has a BS in computer science and ScrumMaster training.