Update:
PMI Challenge for the Underserved

Medical devices are essential to the practice of modern medicine. Clinical measurements such as blood pressure and temperature, x-ray and ultrasound imaging, administration of intravenous medications, and support of critical life functions all require medical devices. However, despite our reliance on sophisticated medical equipment, most devices are not designed to interconnect with other devices. Therefore, it is difficult to connect individual devices into integrated medical systems to improve patient care, avoid unnecessary accidents, and obtain comprehensive data to personalize care delivery.
The Answer:
Facilitate the adoption of open standards and interoperable technologies to securely Integrate Clinical Environments (ICE).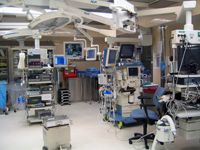 Since its establishment in 2004, the
Medical Device "Plug-and-Play" (MD PnP) Interoperability Program
has been accelerating the adoption of medical device interoperability to enable the creation of complete and accurate electronic health records and the cost-effective development of innovative third-party medical "apps" for diagnosis, treatment, research, safety and quality improvements, equipment management, and adverse event detection and reporting when using networked medical devices for clinical care.
Our
team
is working to develop sharable databases, open-source tools, and applications that will enable a broader community of researchers and manufacturers to implement
secure medical device interoperability
. We have taken a multi-faceted approach to reduce key barriers to achieving interoperability, including:
Support of suitable open standards (e.g. ASTM F2761, Integrated Clinical Environment, or "ICE")
An OPEN SOURCE implementation of ICE - See OpenICE
Elicitation, analysis, and modeling of clinical use cases and system engineering requirements for an open architecture instantiation of ICE as a platform and "ecosystem"
Alignment of clinical, manufacturer, and FDA regulatory expectations
Implementation of prototype use cases in an open "sandbox" environment in our MD PnP Lab
Diverse collaboration and engagement